| | |
| --- | --- |
| | Ford Thunderbird '89-97 Rear Speaker Removal and Installation |
Car Stereo Repair Home | Car stereo removal | BOSE repair | FAQ | Shipping | Top 10 | About Us
Rear Quarter Speaker 1989-1993/1994-1997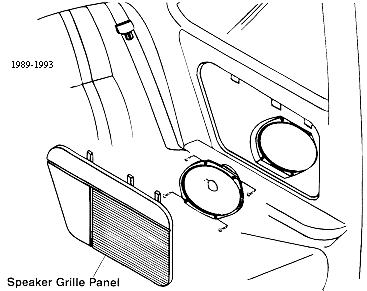 (Rear side speaker size 5x7in, depth 4 in)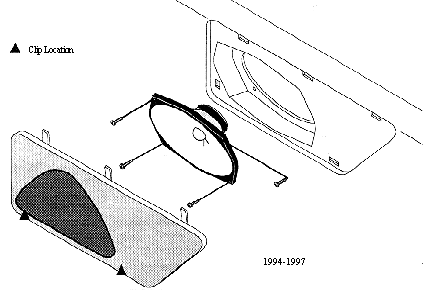 (Rear speaker size 5x7/6x8 in, depth 3.5 in)
Pry outward on lower front and rear corners of speaker grille panel above armrest to release retaining clips. Pull downward on speaker grille panel to remove.
Remove four (4) Phillips-head screws securing speaker to rear seat panel, remove speaker, and disconnect speaker connector.
Speaker grille installation is the reverse of installation.
If you have found these pages to be helpful, please
CLICK HERE!
Car Stereo Repair Home | BOSE repair | FAQ | Shipping | Top 10 | About Us
Factory Car Stereo Repair, Inc.
1987 Corporate Square Suite 159
Longwood, Fl. 32750
PHONE (800)428-1909 / (407)830-0777, GOT QUESTIONS?
OUR HOURS MONDAY THRU FRIDAY 9am to 7pm EST.
Home page www.carstereohelp.com